The Caribbean Premier League entered it's 9th season in existence in the 2nd year of a Pandemic, a new venue, new ownerships on teams but the same excitement you get year in and year out from some of the best T20 cricketers in the Caribbean basin and some of the best in the world as well.
This season saw the Barbados Tridents and the St. Lucia Zouks saw Indian Premier League franchise owners bought majority ownership of the teams thus they became the Barbados Royals (of the Rajasthan Royals) and the St. Lucia Kings (of the Punjab Kings).
The Kings, after years of futility in their first seven years, finally made their debut in the CPL Finals and were looking to go one step further as a legitimate contender. The Royals were looking for a bounce back year under new management. Last year's undefeated champions (and MY TEAM), the Trinbago Knight Riders were looking for back-to-back titles and looking to keep the win streak going, minus the services of fan favorite Dwayne "DJ" Bravo.
The team he went to: The St. Kitts and Nevis Patriots. A CPL outfit 3 years younger than their counterparts, have always shown potential since their debut, but with Bravo on the team, you could sense that they had that belief that they could make a run as well. The Guyana Amazon Warriors are always strong, year in and year out. The Jamaica Tallawahs never really inspired, but they were always in the hunt usually.
To make it short: It was probably one of the most exciting seasons in CPL yet in my opinion. For the first time in a while, you get the sense that the teams were almost equal at a point. You go into a match after the first few match days not being too sure who of the two teams would come out the victor. The league table said the Knight Riders "won" the regular season, but if you watched the games you KNEW that they weren't the best team. Three teams finished with a 6-4 record, the Tallawahs missed it with a 4-6 record. Lets go through the teams shall we?
---
Barbados Royals
The Royals were treated nothing like royalty in their first season under new ownership. A 3-7 record for the 2nd straight year since their shocking CPL championship season in 2019 has captain Jason Holder wondering what else does this team need? They have Bajan talent up and down the roster and they brought in some decent talent but they just never got going. Holder was expensive as a bowler, Hope started off promising with the bat but fell off considerably. Hayden Walsh Jr. only took ONE wicket as a bowler, although he did have a fantastic catch.
They had some upsides such as their third win coming at the end of the season thanks in part to a 134 third wicket partnership between Glenn Phillips (80 off 39) and native Bajan Kyle Mayers (81 off 62 plus a 3/39 bowling spell). There was also a lot of bad like when the Knight Riders ran them out of Basseterre when they delivered them 4 ducks en route to 93 all out. Needless to say, Barbados needs some serious improvement before they return to royalty status again.
---
Jamaica Tallawahs
The Jamaica Tallawahs were up and down batting-wise . We know their bowling attack was going to be good with Fidel Edwards riding from from the previous WI tour, Carlos Brathwaithe, Dre Russ and newcomers Qais Ahmad and Chris Green. But the batsmen were inconsistent. At times they could go and get 255 runs and then there was that 92 all out performance against TKR.
If they would've won one more they maybe sneak into the playoffs instead of the Kings because of their NNR but that's how close it was this year. The Tallawahs always have been a great batting team with the likes of Sharmah Brooks, who should've had 3 half-centuries this tournament, Carlos Brathwaithe is a great all-rounder, Andre Russell is dangerous with the bat when he's at his best. They just had one or two bad games where they got off to bad starts at the top of the order. If they could retain the likes of Chris Green next season, the bowling would be at a decent level again.
---
Trinbago Knight Riders
With Bravo out of the team, you lost some batting power and some bowling prowess. Which meant that the batsmen had to step up and additional wickets had to come from somewhere. Lets start with the bowling, which was clearly one of the most lethal in CPL. Young Jayden Seales took advantage and showed himself a promising bowler. Ali Khan came to the party a bit late but 4 wickets and allowing only 6 runs in his first game back showed his importance. Isuru Udama was expensive at times but his wickets were timely.
Then there was Akeal Hosein, who at times was one of TKRs best players. He contributed bigly with his consistent bowling (at least one wicket in all but one game this tournament) and his fielding, highlighted by this Odell Beckham Jr-esque catch against Nicholas Pooran!:
And the guy who bowled that, Ravi Rampaul, like WHERE DID HE COME FROM??? He was absent in the last few iterations of CPL and I was most surprised to see him here! Yet here he is with the most wickets taken in the CPL (19) and alongside guys like Akeal Hosein, Evin Lewis, Keiron Pollard and others in the Team of the Season.
Top order batting really hindered the team as they just couldn't get going at the start of the innings, placing pressure on captain Keiron to do Pollard things. Lendl Simmons and Colin Munro really wasn't able to get into that rhythm that they usually got into to get those half centuries that we were accustomed to. Sunil Narine was rotated to the top of the order at times but wasn't the answer either, although he did some good things in the middle of the order. Tion Webster and newcomer Leonardo Julien tried their hands at the top at times and were hit and miss. Darren Bravo started the season late due to injury. Tim Seifert, from New Zealand, had moments of brilliance to help dig TKR out of some holes.
All in all, their top order woes need to be addressed next season or else they'll be right back where they were this season.
---
Guyana Amazon Warriors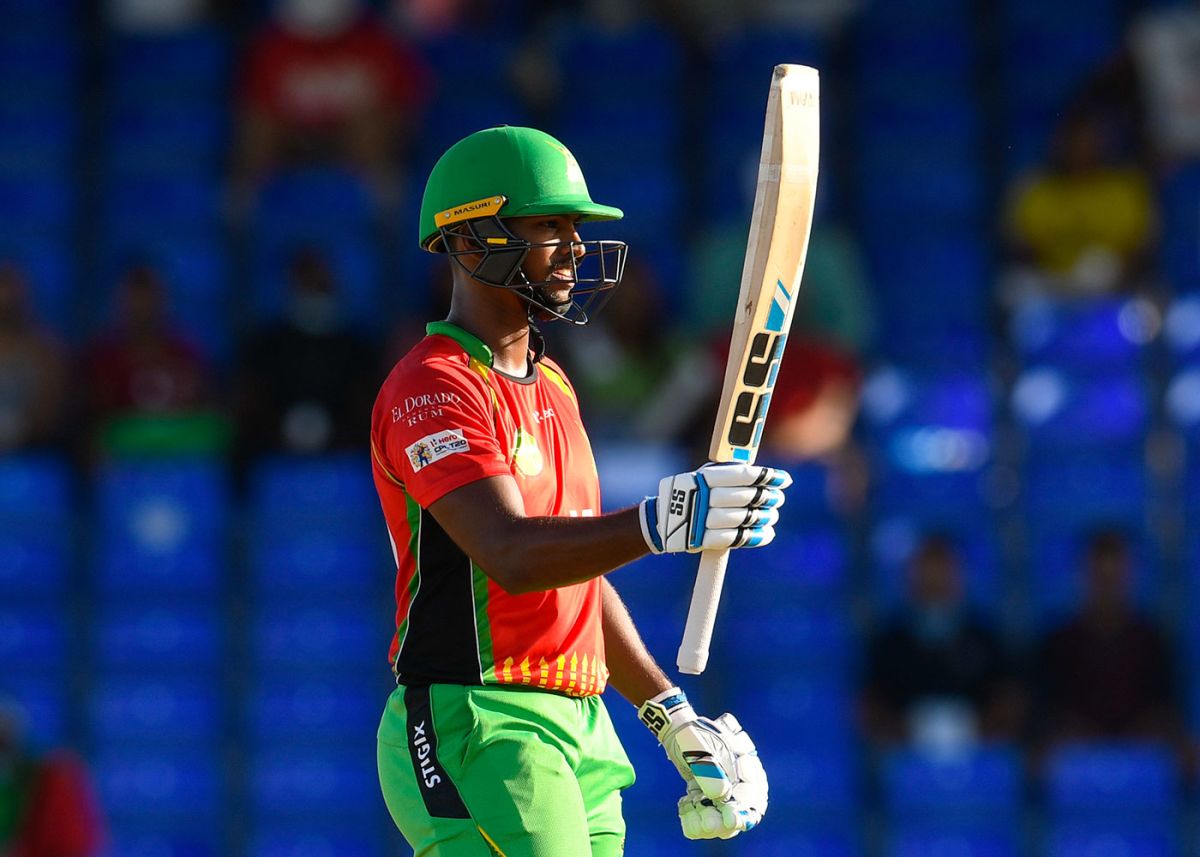 With Chris Green off to Jamaica, the Amazon Warriors became Pooran's team and he did a good job managing the team! A 6-4 record in a really tough CPL season competition-wise. You lose one of your best bowlers, as well as Keemo Paul too so the bowling attack loses some attack points. He had a decent year with the bat, highlighted by a 75 n.o. against the Tallawahs. He beat the undefeated Knight Riders in his first game as captain and then handing them their third loss all-time in a Super Over.
Shimron Hetmyer was good this season but a batsman of his calibre and potential, you wish he could give you more high-run totals. He had 52 in his 2nd game of the tournament but wouldn't cross 40 runs until the semifinal. It's kind of harsh to demand performances like that from him from a game-to-game basis, but you're talking about a man who hit 189 as an U19 player, so the bar is high. Any why shouldn't we? When he's on his game we know that he's capable of at least 50 runs anytime he walks on the field.
Chandrapaul Hemraj was good this tournament too including going off for 105 against the Barbados Royals. Brandon King had a tournament high of 77 but never went above 20 in all but one other match. The bowling was great, as what you would expect from the Amazon Warriors, even with Green gone. Imran Tahir was his usual wicket-snatching self. Naveen Ul-Haq took wickets but was expensive in the process. Romario Shephard had himself a tournament with 5 games with 3 wicket hauls. In a game against the Tallawahs, he did that and also chipped in 72 runs as a batsman too! One of the players of the tournament for sure!
It's amazing how the Amazon Warriors could have the success they've had since the CPL began in 2013 and have not yet won a championship. Five runners-up finishes and the year they went undefeated in the regular season, they end up losing to the Tridents in the final. Warrior fans have been so good but so haunted. They'll win one eventually, but the question is…when?
---
St. Lucia Kings
Remember when they were bad? Seems like forever!
Anyway. A new season, a new name, two years into the new decade, two CPL Finals berths! St. Lucia saying tings now! Last season they were 6-4 with really well-balanced team. Solid bowling and batting and they rode it all the way to the final. How would they fare without the likes of Scott Kuggeleijn, Mohammed Nabi, and their long-time captain and face of the Zouks/Stars/Zouks/Kings Darren Sammy?
Easy: Bring in pace with Keemo Paul and Alzarri Joseph, some spin with Sami Patel, some international vets with the bat in Faf du Pleissis and David Wiese (all-rounder), and Tim David for good measure. That along with their core of Fletcher, Cornwall, Chase, Williams and you have a recipe for some success. They finished 5-5 but they played better than what the record said, and another 2nd place seconds that.
What cost them in the long run was the absence of Obed McCoy, who was dealing with nagging injuries and didn't play the rest of the tournament. It's a shame too because he was coming off a really good series against South Africa and had taken 6 wickets in 3 games with the Kings so you know they were missing his bowling. Alzarri was a good pick up, but there were games where he got really expensive. David Wiese was really good player for them down the stretch with two 5-wicket hauls and some clutch death over batsmen. Mark Deyal is really starting to come into his own as a batsman, with a CPL-career high 78 against his former team, the Knight Riders.
I honestly think that the Kings could be really good for a good while as long as they can keep this consistency going. As long as they could retain that core as well as bring in top international talent, we could see them being in the playoffs regularly unless the Royals or the Tallawahs get back on the right side of winning. COULD they win a CPL title with the players they have? MAYBE. Is it good to finally see a regular loser become decent? Absolutely! Sports teams have their years of being bad and being good and looks like the 2020s could just might be the rise of the Kings.
---
St. Kitts & Nevis Patriots
Okay before we get into this, even with DJ Bravo coming over, can we acknowledge the fact that the Patriots in 2020 LOST 8 GAMES LAST SEASON!!! They were 1-8 as a team last season! WHAT HAPPENED???? It couldn't be Bravo alone right??? I don't know what miracle work he did on that team but it worked. From 1-8 to 6-4 and their first ever CPL championship.
Bravo had contributions such as a season high 47 runs and taking 8 wickets but after he allowed 50 runs against the Kings the 2nd time he stopped bowling. He batted when he had to but after that he didn't do a lot other than field and lead a decent team. Fawad Ahmed, Naseem Shah and Sheldon Cottrell ran the bowling attack. Dominic Drakes too, including sealing the title with the closing over. Sherfane Rutherford and Devon Thomas had moments in the tournament with their batting . Joshua Da Silva went up to bat 3 times and had good to great outings all three times. Fabian Allen was as reliable as they come as an all-rounder. All in all, solid outings from everyone.
Let's talk about Evin Lewis.
Evin was fantastic this tournament and arguably the best player in CPL this season. Coming in after great tours against Australia and South Africa and he carried that momentum in to CPL. He got off to a hot start scoring a combined 92 runs against the Amazon Warriors, 62 in the first game. Against the Kings the first go round he had a 73. After falling into a bit of a funk, he exploded for 102 n.o. against the Knight Riders and then another 77 n.o. against the Amazon Warriors on the Patriots' way to the final. He had an early exit in the final but it didn't diminish what a great season he had batting the ball. That's also good news for the West Indies going into the T20 Tournament as well. Him opening alongside Andre Fletcher in the run of form he's in, makes him one of West Indies best batsmen.
So as we wrap up, I say once again congratulations to the St. Kitts and Nevis Patriots on the amazing turnaround season that you had from bottom-dwellers to Champions. Congrats to Dwayne Bravo and Fawad Ahmed on back-to-back championships (both played with TKR last season). For the rest of teams, time to go back to the drawing board, see where you fell short and come back stronger next year. Because next year would be a special year to win as the Caribbean Premier League will be celebrating 10 years of existence!
Until next time!