Earlier this month I made my predictions for how the Western Conference was going to end up after the regular season ends. Now we switch our focus to the Eastern Conference.
With Kawhi heading south-west of the border as well as other stars and players reshuffling after free agency, the Eastern Conference looks to be as competitive as ever amongst themselves (not necessarily against the West), and the fight to get in shoulda be a tight on.
Let's see who I believe will make up 2020's iteration of how the Eastern Conference will look in April.
---
#8 Detroit Pistons
Projected 5:
PG Reggie Jackson
SG Bruce Brown
SF Tony Snell
PF Blake Griffin
C Andre Drummond
Projected Record: 40-42
I'm not overly confident in the Pistons really. The only reason I have them in eight is because I could only see one team coming out of the Southeast Division. Miami to me is the favorite over Orlando this season with the addition of Jimmy Butler, despite getting a bit better with the addition of Al-Farouq Aminu and if Mo Bamba stays healthy. The Pistons with Griffin and Drummond on the front court, and Rose off the bench if he replicates last season's performance, may be just enough to get that last spot in the East.
Gone are guys like dynamic backup guard Ish Smith, young defensive ace Stanley Johnson, dunk champion Glenn Robinson, 3 point shooters Reggie Bullock and Wayne Ellington. In comes a revitalized Derrick Rose, a liberated Markeiff Morris from Washington, Tony Snell from the Bucks and BiG 3 Champ and MVP Joe Johnson (who's 38 years old).
Derrick Rose's ability to get to the basket and just flat out score will keep the Pistons in most games IF he could continue the form he showed with the T-Wolves. Tony Snell was a capable backup 3-and-D wing back in Milwaukee and will look to get starter's minutes in Motown. Markeiff Morris adds toughness and floor spacing when he comes off the bench. Joe Johnson's the big question mark. At 38 years old, can he go from BiG 3 competition (washed up veterans) to NBA competition (actual NBA players mostly in the primes of their careers).
The Pistons also drafted Sekou Doumbouya who played overseas for Limoges CSP in France. He's 6'8″ 230 lbs, with a 6'11" wingspan; great size to play SF and maybe eventually play small ball 4. He's only 18 years old so he warrant much playing time on an NBA and spend time developing in the G League. However, if the injuries at the forward spot happen, he could see the court and lean on his defensive potential to help them win games.
But the team will only go as far as their star front-court duo could take them. Drummond is one of the premier rebounding big men in the game and had his best scoring season last season. Griffin had an All-Star year, becoming an all-purpose player and multi-faceted scorer, having his best 3 point percentage so far in his career. A sore knee kept him out of the first two games of their playoff series against the Bucks, so he had surgery on it, and will look to be under load management at least to start the season, which means somebody will have to step up.
And it's going to have to come from their backcourt duo. One needs to produce more, the other needs to develop more.
Reggie Jackson's the more established player. He's entering his 9th season, coming off a season where he played and started all 82 games, saw his best year as a 3 point shooter. For his career as a starter, he's never averaged more than 20 PPG in a season for Detroit. He might have to if he wants to remain a starter and help the Pistons in the East. It's either that, or Derrick Rose might take his spot in the lineup if he continues his form from last season.
Bruce Brown, a second round pick that started 56 games last season quickly flashed his defensive potential last season. Standing 6'5″ with a 6'9″ wingspan along with a 195 lb frame, Brown has the potential to guard up to small forwards along the perimeter, and that'll be key given how thin they are at the position. He doesn't have a shot at the moment, which is something he has to improve on if he wants to stay in the lineup. He can get to the basket, but only shot 39% for his rookie season, but if you look closer at the shot percentage per distance, it got worse the further he's away from the basket.
He obviously has to improve his shooting away from the basket, and it's going to take time. His best bet right now is to keep improving his defense and get better at getting to the basket or else coach Casey will have to look to other alternatives. He has Luke Kennard on the bench, who's an excellent 3 point shooter, but there's not much else in the way of shooting in the 2nd unit.
With ambitious teams like the Hawks and the Bulls thinking playoffs this season, along with the rest of the Eastern Conference getting better, it's going to be difficult for the Pistons, with the little moves they made in the offseason. A losing record might not be enough to made the playoffs this time, but if they beat the teams their supposed to beat, and upset a few of the heavy hitters in the conference, they could be looking at another 1st round exit come April.
---
#7 Miami Heat
Projected 5:
PG Goran Dragic
SG Dion Waiters
SF Justise Winslow
PF Jimmy Butler
C Bam Adebayo
Projected Record: 42-40
The Miami Heat last season dedicated their entire season to the retirement of their franchise player, Dwayne Wade and almost helped him to a playoff spot, but it wasn't meant to be. Now that Wade is no longer on the roster, Pat Riley and the Heat are getting back to business and could be one of the last team's in the playoffs.
The biggest acquisition was the four-team trade to bring in Jimmy Butler. He's on his 4th team in 4 years, but he looks to make Miami his home over the next four years and looks to help the Heat make an easy transition on from Wade. My question for Butler is what position is he exactly going to play?
I have him at the Four right now because I believe he's a better fit there for the team and their best option there, and it allows Justise Winslow to continue to develop in his more natural 3 spot. If Butler plays SF, Winslow either plays as an undersized 4 or he plays in a backup Point Forward role off the bench. If Butler plays the 2, then Dion Waiters becomes a 6th man and I don't think he'd like that, even though the role would suit him perfectly. Coach Spoelstra s going to have to figure out how best to configure his team so that he can optimize Jimmy Butler's effectiveness so that the Heat can become the best version of themselves
Another thing to look at for the Heat this season and going forward is the development of their younger pieces, most notably Bam Adebayo and the aforementioned Winslow.
With Hassan Whiteside traded to Portland, Bam becomes their new full-time starting Center. Adebayo started in 22 of the Heat's final 23 games, averaging 11.6 points on 59.7 percent shooting, 9.1 rebounds, three assists, 1.1 steals, and one block in that span, and Miami outscored opponents by 45 points in that time. Most of those points have come from being a Screen Outlet dunks and lobs from his teammates and offensive rebounds, but he's flashed potential as a ball-handler and as a post playmaker. If he can build on that, and maybe help with spacing by developing a jumpshot, he could be a problem for the League in years to come.
Justise WInslow has been a good player over the course of his 4 year career but nothing yet to justify him as that "steal of the draft" back in 2015. He hasn't played more that 70 games over the past 3 seasons, and his numbers have been at best average, but he seems to be trending in the right direction after last season.
He's most effective as the Heat's playmaking point forward, averaging 4.4 assists last year alongside his career high 12.6 PPG and is a respectable defender as well. For me, I believe he could be that multipurpose player that could be the 3rd option scorer as well for Miami behind Butler and Waiters. Dragić is turning 34 next season and while he's still a capable player, he's not going to be playing for long after. Winslow needs to take a big leap this season and solidify himself as that solid player people believe he could become. Either that or he'll be showcasing his talents for another team next season.
The Heat drafted rookie guard Tyler Herro with the 13th pick in the draft and he's shown in Summer League that's he is ready to contribute. The 6'5″ 195 lb shooting guard out of Kentucky could be what Tyler Johnson was before the was traded to the Suns: a capable bucket getter and offensive spark off the bench. Together with his near 20 PPG off 42% from the field, eh also averaged 4.3 rebounds and 4.5 assists and 1.5 steals. He gets rebounds, he makes plays for others and can pick player's pockets. Still have to wait and see if his game translates to the NBA regular season, but I believe that he could be an X-Factor for the Heat especially in the 2nd unit.
The South-East is going to be a little tougher this season with the Hawks possibly taking a leap this year and Orlando looking to defend their division crown, but I believe that the Heat will do just enough to come out of there with a playoff spot.
---
#6 Boston Celtics
Projected 5:
PG Kemba Walker
SG Jaylen Brown
SF Jayson Tatum
PF Gordon Hayward
C Enes Kanter
Projected Record: 43-39
To be quite honest with you, I have no idea where the Celtics are going to finish this season. I can't make heads or tails of this roster. They either have the potential to be really good, or really bad. I gave them the 6th seed because that's the lowest I think they'll finish.
Before we even get to the new signings we need to talk about Jayson and Jaylen.
Jayson had a decent sophomore season and looks to improve on those numbers again this season, being #2 this time to Kemba Walker. He's also somewhat looking at a contract extension as his rookie deal is up next season. If his overall game could take another significant jump, and be the great player that the Celtics think he can be, then they can go higher than the 6th seed maybe and make another deep run in the playoffs.
Jaylen is in the last year of his contract and it's unlikely that he might come to terms on a long-term contract with the Cs. Jaylen Brown since breaking out in 2018 hasn't been able to find consistent minutes in the Celtics starting lineup last season, starting only 25 games last season. So it could be that he's auditioning for teams in next season's free agency. He might be looking at a career year that could propel the Celtics to a another playoff run that could lead to a contract that the Celtics can't offer.
Now lets talk about the Celtics "Plan A," and the reason why I believe the Celtics could struggle this season. It's been well documented that Danny Ainge, since the Celtics rebuilding process began, was going to pull the trigger on a deal that swaps his young assets for a couple superstars that will bring them back to a title. It didn't happen when Kyrie Irving came and went, the Gordon Hayward situation got messed up after he messed up his knee, and now Horford, arguably their best overall player moved on to Philly.
Now you've got a smaller, less talented version of Kyrie in Kemba Walker and a big man in Kanter who could score and rebound but can't defend (can't spell DEFENSE without ENES though).
I don't believe that the moves they made makes them better but it doesn't make them worse either. The other thing is coach Brad Stephens and how he's going to gameplan around this team. Sure the easiest answer is to put the ball in Kemba's hands and watch him run the offense but how is that going to sit well with Tatum and Brown who are decent options on the offensive end and they BELIEVE that they are really good options on that end.
If Stephens could find a balance between letting Kemba work and utilizing Tatum and Brown to help them win games, Celtics could have a good season, or their could be discord in the lockeroom.
One other thing to look at: the Celtics ever-growing chest of young prospects. This year's draft class sees guards Romeo Langford, Grant Williams, Carsen Edwards and Tremont Waters (Guard, Forward, Guard, Guard) join the Celtics with weird jersey numbers. Tacko Fall, the 7'6″ center also joins them as an undrafted rookie. Esentially they'll see most of their playing time in the G League unless injuries to the actual Celtics allows them to get sime NBA playing time. Will they be a part of the Celtics future or part of a trade package to bring in a Superstar?
I still am unsure of what exactly to make of the Celtics which makes them very intriguing. They have a ball-dominant guard, two young but very talented wings and Gordon Hayward who is steadily getting better since the leg injury. It'll be interesting to see how coach Stephens makes it all work and how they look against the top teams in the East. For now, their floor is the 6th seed.
---
#5 Indiana Pacers
Projected 5:
PG Malcolm Brogdon
SG Victor Oladipo
SF T.J. Warren
PF Domatas Sabonis
C Myles Turner
Projected Record: 45-37
The Pacers last season looked to be a playoff underdog until their star guar Victor Oladipo went down for the rest of the season with a knee injury. Nonetheless, head coach Nate McMillan got the best out of a star-less roster by hanging with the underachieving Celtics despite not winning any games in the series. With Oladipo expected to miss some time early, can the Pacers take the next step when he comes back into the lineup and compete with the East's best?
Domantas Sabonis and Myles Turner are two centers that are trying to co-exist as starters on the floor. One is a huge presence in the post, he can score there, pass, and was one of the best at crashing offensive boards last season. The other is a shot-blocking, face up center that had his best season shooting the ball from behind the arc.
When you reverse them, neither is good at what the other is good at. Sabonis shot better than 52% from 3 but only attempted 17 threes. Turner doesn't have much of a post game too. If you keep Turner at the 3 point line, you limit his effectiveness as a rebounder and shot-blocker. If Domantas shoots more threes, you also limit his overall effectiveness. Both are also slow to pick up modern 4s on defense as well.
Can both big men develop to help play off of each other better or will one of two have to be moved in order for the team to move forward?
The Pacers off-season moves saw newest member of the 50/40/90 club Malcolm Brogdon, signed a new deal to leave Milwaukee, T.J. Warren acquired in a trade from Phoenix and Jeremy Lamb from Charlotte. All three look to have a significant role on team early on. Lamb will most likely play for Oladipo until he's 100% healthy.
The question for them becomes, at least for Warren and Lamb, how will they perform playing meaningful basketball? Can Brogdon's performance roll-over with the Pacers? Can T.J Warren, who shot better than 40% last season keep those numbers up while staying healthy? Or will he regress again into shooting south of 25% again? Can Jeremy Lamb fill in for VO until he comes back? and what will his role be once he does?
The Indiana Pacers can definitely play spoiler against the better teams in the East. Once they figure out how Sabonis and Turner can effectively play on the front-court, Oladipo comes back and the team starts to gel, they'll be a tough matchup for any team.
---
#4 Toronto Raptors
Projected 5:
PG Kyle Lowry
SG NormanPowell
SF OG Anunoby
PF Pascal Siakam
C Marc Gasol
Projected Record: 48-34
The Raptors are in a weird spot as defending NBA champions as their future is up in the air as to what direction the franchise wants to go in. With NBA Finals MVP Kawhi Leonard and Danny Green heading to the Clippers and Lakers, does Masai Ujiri attempt to defend the title, or do they blow it up and rebuild? Their off-season moves suggested the former at least for the time being, and I think they'll do well pending the direction the team goes.
---
Their off-season moves were primarily defensive. Their main moves; Former Detroit Piston and New Orleans Pelican Stanley Johnson and Former Net Rondae Hollis-Jefferson join the team with both specializing on the defensive side of the ball. Both are 6'7″ with 7′ wingspans that could guard multiple positions. However they aren't shooters although Johnson, at 23, could still develop to be at least a threat teams have to respect. 3 time NBA Champion Patrick McCaw had his qualifying offer extended and looks to stay with the team for another year.
Other signings include Cameron Payne, Isaiah Taylor, Devin Robinson, 2nd round pick Dewan Hernandez and some undrafted rookies to fill out the roster; all on short-term deals and are 25 or younger.
OG Anunoby's development took a backseat when Kawhi Leonard came to take his place in the starting lineup. Only started in 6games when Kawhi was under load management and missed the rest of the playoffs due to an appendectomy. He's already a good wing defender and put up solid numbers while he came off the bench (12.5 PPG, 5.2 RPG, 1.2 STLS). Entering his 3rd season, the London-born Small Forward is looking to solidify his future with the team, and looks to return to be a part of the team's future alongside Pascal Siakam and Fred VanVleet. If he can improve his shooting numbers along with continuing to get better defensively, the Raptors could look to make a run in the playoffs.
However, everything hinges on the development of Pascal Siakam. You still have Marc Gasol, Serge Ibaka and Kyle Lowry on the team, but for the Raptors to remain contenders, last year's Most Improved Player must improve further if the team has any chance to make back to the NBA Finals.
He took huge leaps across the board; in his scoring, shooting, play-making, rebounding, you name it. He has the tools and potential to become a 20/5/5 player and an All-Star in the Eastern Conference. His improved shooting will help space the floor. If his ball-handling improves more, his offensive potential will know no bounds. He's also got the physical tools to continue to become better defensively. It doesn't show in the box score stats but you look at his athleticism and length, he switches so well and has the mobility and quickness to guard perimeter players and the size (could get stronger) and length to defend the post and block shots. Those numbers can definitely go up.
I believe the team goes as high as Siakam takes them. With him as the main guy, Lowry and Gasol the older statesmen, and VanVleet running the second unit, there's potential for the Raptors to be a high seeded team. How far they go in the playoffs is a different story.
---
# 3 Brooklyn Nets
Projected 5:
PG Kyrie Irving
SG Caris LeVert
SF Joe Harris
PF Rodions Kurucs
C DeAndre Jordan
Projected Record: 51-31
The Brooklyn Nets were one of the surprise teams of last season. Ran by their former young All-Star guard D'Angelo Russell, their defensive anchor in Jarrett Allen, and led by head coach Kenny Atkinson, they got to the 7th seed in the East and got bounced out the first round by Philadelphia 4-1. The reward for their effort? Two superstar caliber players and a former All-Defensive center. They have come a long way from making one of the worst sports trades of the 21st Century, and maybe of all-time.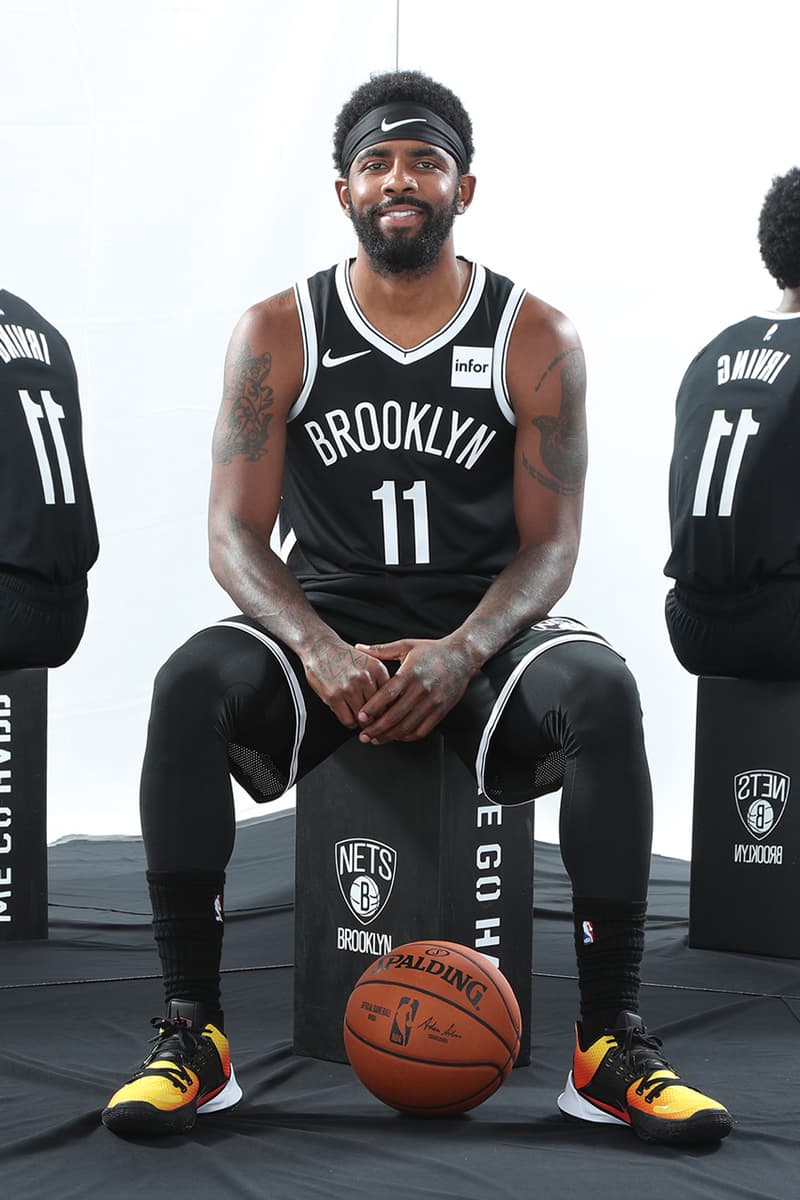 We're not going to talk about Kevin Durant. More than likely he misses the season to rehab and come back 100% after the Achilles injury. For now, it's Kyrie's team for this season, and a chance to once again prove that he can be the leader of his own team. He had a rough start to the season but, overall he had a typical Kyrie season, with career highs in assists and rebounds as well. He's still not a defensive stopper but he did post his highest total in defensive win shares (An estimate of the number of wins contributed by a player due to his defense), so there's room for improvement there.
What I love about this team the most is how deep they are. They still have Spencer Dinwiddie who's more than capable of running the 2nd unit as its main playmaker/scorer. Jarrett Allen, whether he gets shuffled to backup DeAndre Jordan or starts is still onefo the best young rim protectors in the NBA. Garrett Temple is a decent 3 and D player. Once Wilson Chandler comes back from his suspension he's a combo forward that can stretch the floor. Taurean Prince, once the main guy in Atlanta is now a quality role layer that can do anything you need him to do. David Nwaba's defense and hustle are invaluable to any team. They're so loaded, it'd be almost disappointing if they didn't as one of the higher seeded teams in the East.
Caris LeVert is entering this fourth year and the start of his new three year extension after showing more growth in his development as a player despite missing 42 games with a foot injury. He's been dipping in his shooting efficiency since entering the league in 2015 while his point totals have increased. Despite this, the Nets have seen enough to believe that he could be their SG/SF going forward. His play should improve greatly, being able to play next to an all-star in Kyrie Irving, who's play on offensive should attract enough attention to leave LeVert with open looks. His 6'7″ stature with a 6'10" wingspan should annoy opposing guards as well. If he could improve in that department as well. If he could put it all together, he could be the Robin to Kyrie's batman and be the great two-way player he could be.
---
#2 Philadelphia 76ers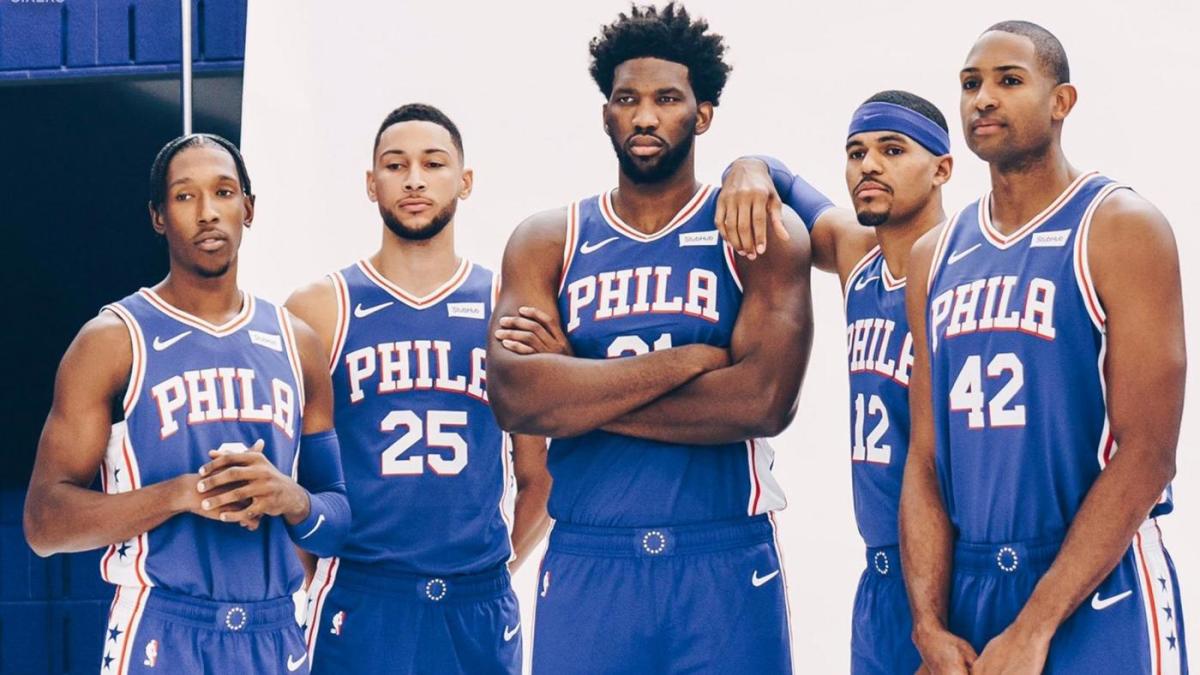 Projected 5:
PG Ben Simmons
SG Josh Richardson
SF Tobias Harris
PF Al Horford
C Joel Embiid
Projected Record: 54-28
Philly was on the wrong side of one of the greatest buzzer-beating shots we've ever seen in NBA Playoff history,and they're more than determined to get back. While losing some key pieces,they made some decent returns over the offseason.With the roster reloaded, the 76s continue the process of making to the NBA Finals.
In the offseason, they sent Jimmy Butler to the Heat in a sign and trade to the Heat and got back Josh Richardson in the process. J-Rich was a really good two-way player in Miami and has improved his overall game every year since coming into the league. They re-signed Tobias Harris to a max contract. The Sixers realising that Al Horford was one of the few players that could stop Embiid, decided to sign him to the team and add him to their frontcourt. After losing T.J. McConnell in free agency,the signed Raul Neto and Trey Burke in the offseason to back up Ben Simmons. One is a good playmaker and 3 point threat, the other is a shot creator and will be called upon with the Sixers offense goes stagnant. Kyle O'Quinn is brought in with hislow-post dense to backup Embiid when he goes on load management.
Matisse Thybulle is the Sixers first round draft pick thattheyacquiredfromBoston. He's a 6'5″ 190 lb. guard with a 7'0″ wingspan. Already you see the defensive potential on the perimeter. He was one of two players in college since 1992 to average 3 blocks and 2 steals. He could definitely contribute to the Sixers defensively already. On offense, right now his offense is limited to spot up threes (191 threes at a 35.8 percent clip in 135 career games) and shooting open looks (shot 55.5 percent on twos and 63.6 percent at the rimas a senior). He could spend more time in the G-League to develop his offense, but when the Sixers call for him, it'll be more for his 3-and-D ability.
The key for the Sixers is simple: Joel staying healthy and Simmons finally getting that jump-shot. Embiid said at media day that he dropped 20 lbs. over the summer and wants to play more games during the season. Simmons says about his jumper, "I'm confident with the work I've been putting in," Simmons said. I'm more confident with the reps I've been putting in," and "If it's open, I'll take it." Embiid played a career high 64 games last season and averaged 27/13. It's more likely he's on load management, but if the Sixers say he could go all 82, he's bound for another career year. As for Simmons, once he adds that jumper and it's consistent, there's no stopping is potential on offense. He's already a strong driver and finisher and a great passer. An efficient jump-shot would make guarding him really difficult.
The Sixers were four bounces away from facing the Bucks last season. They're probably the favorites to face them in the ECF this season. Is the roster enough to overcome them?
---
#1 Milwaukee Bucks
Projected 5:
PG Eric Bledsoe
SG Wesley Matthews
SF Khris Middleton
PF Giannis Antetokounmpo
C Brook Lopez
Projected Record : 57-25
Was there any doubt?
The Bucks retained most of their roster, signed Khris Middleton to a max contract signed two starters' brothers to the team. Giannis was the league's MVP last season. The Bucks are locked and loaded to win the East once again barring any significant injuries or falloff.
This offseason the Bucks lost Malcolm Brogdon in free agency and 3 point ace Nikola Mirotić returned to playing in Europe. They filled those holes with veteran guard Wesley Matthews who's 3 point shooting, defense and experience could fill the hole left by Brogdon. Kyle Korver was also added, another 3 point threat. Brook's brother Robin Lopez comes over from the bulls and adds toughness and defense in the paint. Dragan Bender looks for a fresh start after not living up to top 5 pick expectations in Phoenix. The Bucks also brought over Giannis' brother Thanasis Antetokounmpo over from Panathinaikos.
In the end, it's up to the incumbent MVP to further improve his game and add that elusive jumpshot to put him over the top. We know he could get to the basket almost at will. We know he could make plays for others. We know he could rebound, run the break, play defense, protect the rim and all that. But when the game is coming to a close, can he be the guy that could go get a bucket for the Bucks? Can e develop his drive game instead of barrelling into defenders going to the rim. Can he develop that jumpshot