So unless you've been living under a rock for almost the past two weeks you know the Hero Caribbean Premier League T20 Tournament is back and better than ever. New players coming in, different faces in different places, and spectacular plays and performances with bat and ball. It's also, as of recent years, where Trinbagonians look forward to the most as they get to witness WINNING cricket (unlike a certain Caribbean cricket team).
Yes, the Trinbago Knight Riders (formerly the Trinidad and Tobago Red Steel) are in their 7th year in existence, are back-to-back CPL champions and are looking to become the first CPL team to win three straight CPL championships. And after their first week of play, they look like the favorites to do so.
A three game home stint at the Queen's Park Oval saw the Knight Riders win all three games against the promising St. Kitts and Nevis Patriots, the strong batting side of the Jamaica Tallawahs and the forever struggling St. Lucia Zouks (formerly the Stars). With TKR looking forward to another matchup with the Tallawahs tomorrow, I just want to recap how the team looked and what could improve with the team going forward.
No DJ Bravo This Season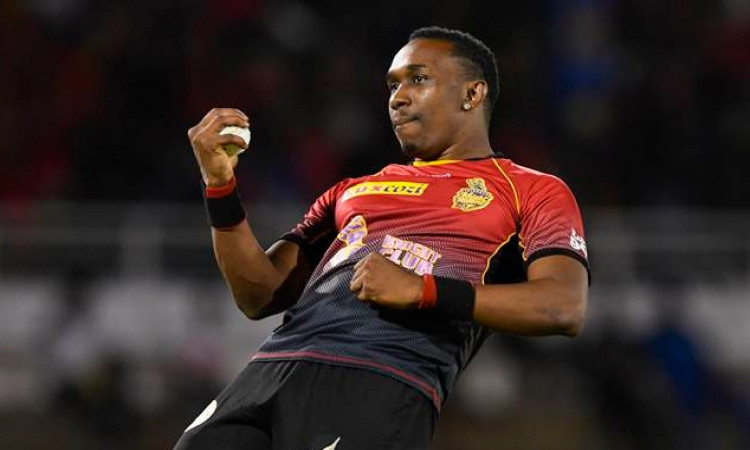 For the first time since the inauguration of the Caribbean Premier League, Dwayne "DJ" Bravo won't be competing alongside his TKR teammates this season as he announced on-air that the finger injury he picked up in TKR's practice match. Initially TKR released information saying that he would "miss a significant art of tournament."
Now while TKR may miss his flair for the game, the entertainment factor he brings and his all-round skills to the team, to me at least, TKR won't miss him as evidence by their play so far this season. Last season he was a wild card; you'd never know what you were going to get from him on a game-to-game basis. On opening night last season he allowed 11 runs and taking 3 wickets in 3 overs, an Econ of 3.67. Next game against the Tallawahs, Chadwick and company got 60 runs off him with no wickets taken. He allowed one 4 against the Zouks, then six 4s and four 6s against the Tallawahs, an Econ of 15.00.
That was basically him throughout the CPL in 2018. There were only about 3-4 games where he allowed under 30 runs in games. He definitely had me scored when he allowed 39 and 44 runs in the 2 playoff games leading up to the final against Guyana Amazon Warriors…where he would allow 30 runs and be responsible for 4 wickets.
So yeah I'm not going to miss him and his erratic bowling on the Knight Riders this season because we have this guy as captain…
Captain Kieron Takes Over
All-Rounder Kieron Pollard is finally out of CPL purgatory and will play for a winner for the first time in CPL play!
The former Barbados Trident (won the CPL title in 2014) and St. Lucia Zouk/Star (who stink regardless of the name) has finally come home to play for the Knight Riders for the first time.
Last year for the Stars he tallied 330 runs off 206 balls, 42 of those going over the boundaries. Bowling wise, he allowed 152 runs in 15.4 overs while taking 4 wickets, with 18 balls going over the boundary. Compared to Bravo, who tallied 164 runs of 85 balls, 22 balls counting as boundaries.
Pollard is a higher order batsman than Bravo which is why there's a big disparity in the numbers. In the bowling department it's much different. Bravo allowed 421 runs in 35 overs (210 balls). He took 11 wickets but batsmen sent 57 of his bowled balls over the boundary line. Pollard didn't bowl as many overs as Bravo but in 15.4 overs (94 balls) he allowed 152 runs. He only took 4 wickets but only 18 of his balls went for boundaries.
He also is off to a steady start with his batting, showing off his efficiency with 106 runs off 74 balls in 3 games so far. He hasn't bowled a lot, only 12 balls across the 3 games, with a run economy of 6.00 but only because he's more a batsman than a bowler and he has a plethora of options at hs disposal. The Knight Riders have a capable captain taking over the reigns of TKR and after that, the West Indies ODI and T20I teams.
The Revamped Batsman Lineup is Looking for Consistency
With each CPL season, the rosters get reshuffled. Some players get retained, others leave and new players come in. TKR wasn't any different. Brendan McCullum retired from T20 cricket and is now the TKR coach, Chris Lynn left and so did Shadab Khan and Bravo is out with injury. Colin Munro missed the 3 game home stint but will return against the Tallawahs tomorrow. Darren Bravo hasn't played a game yet.
New batsman like Lendl Simmons (St. Lucia Zouks/Stars) and Tion Webster (Barbados Tridents) along with all-rounders Jimmy Neesham and the aforementioned Pollard join a batting lineup that joins up with Sunil Narine and Denesh Ramdin.
Lendl started slow with 22 runs combined against the Patriots and Tallawahs before exploding for 63 off 39. Tion Webster only had 6 runs in his TKR debut before slapping 66 off 49. Neesham helped TKR settle down after a shaky start to their debut batting innings by going 33 off 30 against the Patriots before getting bowled out early with on 6 runs the next game.
While we could get away with inconsistencies against the likes of the Zouks, other teams like the Tallawahs and Patriots who have proven Tuesday that they are capable of great batting scores and run chases, and especially a well-balanced team like the Amazon Warriors who are well equipped to make 200 runs or chase it. The game against the Tallawahs (191/4) is what the Knight Riders can potentially put up on any night. Once our batsmen lineup can find that groove, the Knight Riders are a formidable team.
Bowlers and Fielding Has to Pick Up
It's sad to see Fawad Ahmed leave for the Zouks. It really is.
He and Ali Khan were two of the funnest bowlers I've ever seen play. Night after night, you could count on both of them to shatter wickets or set batsmen up to get caught. Now he plays for the Zouks. May the Cricket gods have mercy on his soul.
So with him gone along with bowlers Shannon Gabriel and Colin Ingram, the Knight Riders drafted Sri Lankan leg spinner Seekkuge Prassana and Pakistani pacer Muhammad Hasnain, together with Neesham. Last year's breakout star Khary Pierre was retained along with Sunil Narine and Ali Khan.
The bowling has been pretty haphazard to start the CPL season for the Knight Riders. So far only Sunil Narine has managed to keep a consistent run economy (average of 5.58 through 3 games) while taking 3 wickets. Ali Khan has only played the Tallawahs and they knocked him for 45. Khary Pierre's run economy has trended upwards, going from 4.00 against the Patriots, to 7.25 against the strong batting lineup of the Tallawahs to a STAGGERING 13.00 against the Zouks (thanks in large part to Jason Campbell and Rahkeem Cornwall).
We know now that Hasnain has pace but he still allows an average of 9 runs a game, a little high for me. His 3 wicket performance opening night has me believing he could bring the runs down while raising the number of wickets.
Pollard has limited Prasanna's overs ever since he allowed four his balls to go into the stands against the Patriots. The runs and the boundaries have lessened ever since. Jimmy Neesham after taking 3 wickets and ending the Patriots chances has been inconsistent bowling just like his batting.
The fielding has loads of room to improve. Dropped catches have been somewhat of a recurring theme for the Knight Riders. Neesham has caught 4 batsmen out but it should be more if it wasn't for some drops in the field. Communication in the field also could be improved as it was apparent in one of the games where Khary Pierre and Kieron Pollard nearly collided.
Despite the faults, the team is just beginning to gel and they will get better as the tournament goes on. Their first real test will come against the Amazon Warriors on the 30th unless the Tridents challenge them a little earlier on. Come October the Knight Riders should be at the top of the points table come playoff time. After that, that's when the real season begins.
Also: Akeal Hosein. Catch of the Tournament (so far)